Happy Monday Friends…let's get moving and do something fantastic this week!!
I've been kinda of staying off celebrity gossip sites, another one of my #Project MILF goals, but when i saw on yahoo the headline about Kim and Kanye's Vogue magazine cover, i couldn't help but click on to read.
Needless to say, i encountered many negative commentaries about this Vogue cover…how appalling it was, it's distaste to many Vogue readers, people were cancelling their subscriptions….Kimye fans were cheerig and somewhere i am sure, Kris Jenner was jumping for joy! But when it all comes down to it, i have to give praise to Kanye.
Let us all take note that Kanye is on the cover with Kim, meaning truth be told, he has more clout that she does when it comes to the world of high fashion and celebrity-hood.  The fact that a black man is on the cover of Vogue speaks volume to me than the fact that he is on there with Kim Kardashian.   How many black people, let alone black man have been on the cover of Vogue? None many i am sure.  Whether you agree with how she garnered her celebrity status or whether she can be considered high fashion (or not in my opinion), the fact that Kanye is on the cover along with his future wife speaks volume of the man.
As a man, your role is to make your significant other's dreams come true.  And apparently she has always wanted to be on the cover of Vogue and because he loves his woman and thinks highly of her, he made the case for her to be on the cover.  And i can almost hear Anna Wintour saying to him "only if you are on the cover too".  At the end of the day, he is more compelling than she is.  As annoying as he is…he has earned his right to be arrogant and self-righteous (in his mind) because of his art and artistry.
People may be up and arms about the Vogue cover and i would too if i actually cared about Vogue and whatever it meant for their readers to have Kim and Kanye on the cover.  But i am praising Kanye for giving his future wife what she wanted…a Vogue cover.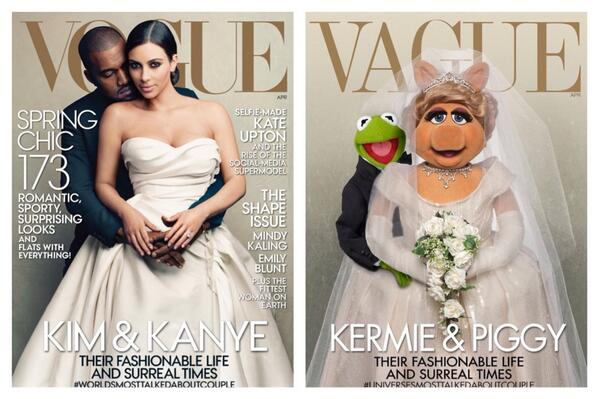 Ms. Piggy and Kermie…say it isn't so….
The naysayers….
The actual cover which i think is beautiful….
not sure why they weren't holding hands though…anyway!